Are you a fan of DIY projects? Or maybe you're searching for a clever way to cut costs for a special event. If so, why not try crafting your own boutonnieres and corsages? While getting creative and incorporating a personal touch, you'll end up with one-of-a-kind designs that will look dazzling on prom night or on the members of your wedding party and forever be immortalized in your photos. So if you're ready to get started, Wildflower Stem & Sundry in Maryland has you covered with easy-to-follow instructions. So let your imagination run wild, and let's get crafting.
How to Make a Boutonniere
Before you start buying materials, figure out how many boutonnieres you'll need. The good news? That number is totally up to you. Want the groom to stand out with his own special flower? No problem. Want to deck out the entire wedding party, from dads to friends to ringbearers? Go for it. If you're creating your own boutonnieres for prom night, perhaps you've been the designated designer for your friend group. Or, maybe you're working on surprising your date with an extra special boutonniere just for them.
Choose the Best Blooms for Boutonnieres
When selecting the perfect boutonniere blooms, lean towards hearty flowers that can remain lush and vibrant throughout the day and into the evening without a water source. At Wildflower, we have plenty of great options — think spray roses, ranunculus, tulips, chrysanthemums, calla lilies, billy balls, and carnations, just to name a few. Don't forget about the greenery and smaller accent flowers to add dimension to your design; baby's breath, ivy, eucalyptus, heather, Italian ruscus, Queen Anne's lace, or wax flowers will all add some extra flair.
Materials Needed for Making a Boutonniere
In addition to selecting the flowers and greenery for your boutonnieres, you'll also want to grab some floral scissors or stem cutters, pins, and floral tape. The tape especially is a lifesaver, as it will seal the stems and keep the flowers looking fresh during your event. If you want to add a little extra panache, throw in some ribbon to cover up the tape and really make those boutonnieres pop.
Make a Boutonniere in 5 Easy Steps
1. Select which flowers you will use as well as the greenery that will frame them. Opt for 1 or 2 statement blooms, 2 to 3 smaller accent blooms, and greenery.
2. Carefully cut all the stems to the desired length for your boutonnieres. (We recommend a stem length of 2 to 3 inches). Make sure all of the stems are clean, and ensure that leaves from the lower parts have been removed.
3. Create your arrangement. Begin with the statement blossom, then add greenery and accents behind it. You can move things around and experiment until the boutonniere is to your liking. This is where you can let your personal style shine!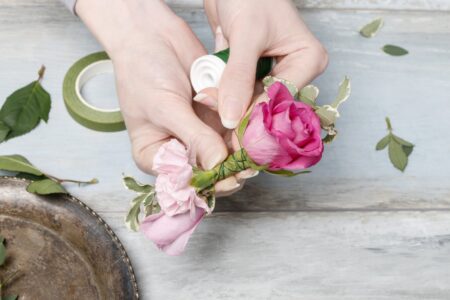 4. Once all the stems are in place, wrap them together tightly with floral tape. Carefully trim the stems to the 1-inch mark. If it suits you, wrap an elegant ribbon around the tape, starting at the bottom and continuing until you reach the base of the flowers. Tie the ribbon in a knot and secure it in place with a pin.
5. Use the pins to attach the boutonniere to the lapel of the wearer's jacket, and you're all set!
When to Make Your Boutonniere
The ideal time to fashion your boutonnieres is in the morning on the day of your event. Once finished, store them in a cool, dry place. While you should not place them in the freezer, they can last in the refrigerator for up to 12 hours. If you have to make them the day or night before your event, be sure to leave the stems exposed and place the boutonniere in a shallow cup of water. You may also place them in the refrigerator overnight; however, be sure to spray them with water so they don't dry out. For more tips, get in touch with our experts at Wildflower Stem & Sundry right here in Maryland.